Don't worry. A lot more stuff is coming to this site very soon! Including stories, a gallery, an animation gallery, maybe fan fiction, and perhaps even more!
Pig Prism Magic, Transform Me!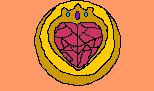 This animation took a long time to do!
Originally, the animation above was supposed to be Nokomis Pig's transformation, but I think it suits Missy Pig much better. Isn't it kawaii? You'll learn more about Missy Pig and the others when Shojo Neko and I put up the Characters page.
You may notice that the above animation looks a lot like the henshin of Chibiusa into Sailor ChibiMoon using "Moon Prism Power, Make-Up!" Well, to tell you the truth, I based the animation on that very henshin. However, I think it looks much better with a cute, furry guinea pig instead of a naked little girl named Chibiusa!